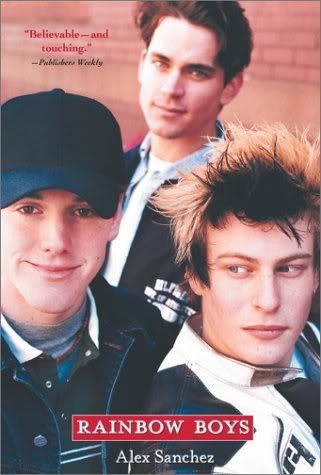 Rainbow Boys
by Alex Sanchez is an interesting, and frank book about the lives of three gay teenagers. Well, two are gay and Jason isn't sure if he is or not.
The main characters are Jason, Kyle and Nelson. Each has their own set of problems which makes this book interesting and down to earth. For instance, Jason has a girlfriend, but isn't sure if he is gay and struggles with the truth. Kyle hasn't come out to his parents and is afraid to do it. To make matters worse his father is a drunk and Kyle struggles with an abusive home life. Nelson has no father, is in love with Kyle, and makes some really bad choices that could endanger his life. Thrown into the mix we have the boys dealing with students who are homophonic and the typical drama of high school.
I enjoyed this book a lot. It showed me the different issues that these characters had to deal with without being preachy. I liked how the story was broken down into three points of views. Each chapter represents a different character's perspective. By printing the characters name in bold at the beginging of each chapter the reader is instinantly connected to the character. As a person who hates multiple narratives in stories I found this very helpful. The author did a good job of staying away from the gay sterotypes. Overall, I think the book was well done.
For students who enjoyed
Rainbow Boys
there are two other books in the series including
Rainbow High
and
Rainbow Road
. Mr. Sanchez has also published his new book entitled
The God Box.
For more information on author Alex Sanchez check out his
website