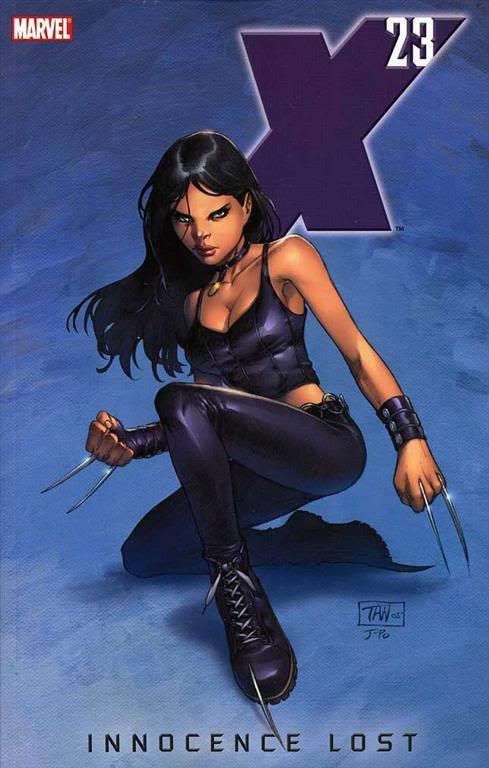 I suddenly realized that I made a grave error in judgment when reviewing my blog recently. To my amazement I found that I had not reviewed any graphic novels or manga books. I am an advocate of both, and believe all libraries should have them (if their patrons want these items) so it's high time I start reviewing them too.
Without delay here I go.
X-23 Innocent Lost
was recommended to me by a friend, who is a huge comic fan. He stated that it was one of the best comics he had ever read. I
needed
to read it. So I tracked down a copy, which was a little difficult because both Amazon and Barnes & Noble were "temporality out of stock." I prevailed, found a copy, and sat down to read it.
The story focuses on the character X-23. In the story we learn how she was created, who she is, and how she became a killing machine. The story also explains how she is related to the famous X-Man Wolverine. This story is about the ultimate weapon, so there is some violence in the book. It sounds more gruesome than it is, but be forewarned this graphic novel might not be for younger readers.
The story is narrated by Dr. Sarah Kinney, whom we watch struggle with her own demons as she tries to create the perfect weapon. The story has plenty of twist and turns and some unexpected developments that make this story an excellent read. I enjoyed the art as well. There are two other graphic novels about this character including:
NYX
(horrible story, skip it at all costs!) and
X-23 Target X
drawn by the very talented Mike Choi.
I really enjoyed this graphic novel and look forward to
X-23 Target X.