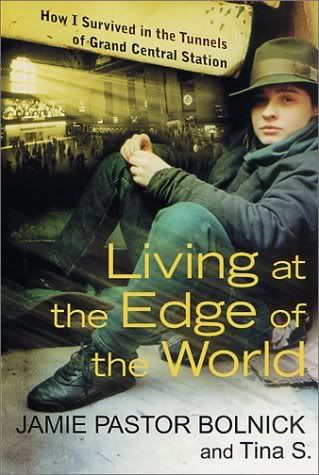 When my students hear the word "non fiction" and "project" they panic. For most, reading fiction is bad enough, but no one wants to read non fiction because it's full of "dead white guys" and "who flanked who at the battle of Gettysburg." What students don't realize is there is a large slection of non fiction books that they may find interesting.
If teens, and adults, are looking for a gritty story about being homeless and what it takes to survive, this is the book for them. Tina S. spares no details and shares her horrific story with readers as she struggles through homelessness, addiction, jail time, and her fight to reclaim her life.
The story is told through a series of flashbacks. First the reader is introduced to Tina S. and her dysfunctional family. Her stepfather sells drugs and also does them. Her mother is out of work, and everyone(including her brother and sister) are living in a welfare hotel called Prince George. Plus, she smokes a lot of pot, occasional drinks and doesn't always go to school.
She hates life until she meets April, whom she believes is the coolest person she ever met. April has a carefree attitude that Tina is drawn to and soon the two are constantly hanging out. It is only a matter of time before Tina gets sucked into the world of homelessness and begins living in Grand Central Station.
The language and details in this book are startling, but that's what makes it so powerful. Tina writes with raw emotion. She goes into graphic details about an abortion, how she robbed people, and her addition to crack.
I felt sorry for Tina, and then there were incidents that made me want to hate her. Tina S.'s story is filled with pain, suffering, loss and redemption. A must read.