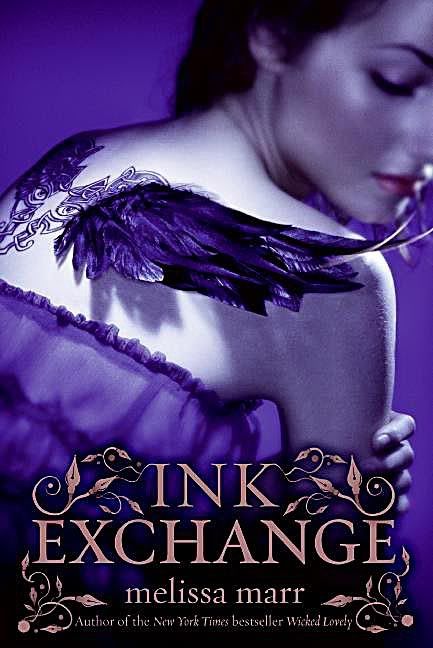 Leslie's life sucks. Her father drinks a little too much..ok way too much, her brother is a druggy and she is struggling to pay the bills with her job as a waitress. She is also dealing with a dark secert.
As she tires to pull her life together, Leslie decides she needs to get a tattoo. She believes that in doing so she will be reclaiming her body and it will set her free. What she doesn't know is that this tattoo is going to link her to the fairy world and that her life will forever be changed.

I enjoyed Ink Exchange. Lets face it, I'm a cover snob and the cover caught my attention. So I decided to give it a go. I liked the story, but I did get a little confused with the characters and who belonged to each fairy kingdom. The author also wrote Wicked Lovely, and I've gotten conflicting reports on which book to read first. Is this a series? So I never read Wicked Lovely, which could be one reason why I was confused.

Looking beyond that point I enjoyed the characters, and the pacing of the novel. There was also a little romance thrown in, which added to the story. It was really cool to read about a fairly/human love affair. The vampire thing has been done to death so I applaud Ms. Marr for trying something different.

I think the same teens who liked the Twilight Series will enjoy Ink Exchange.