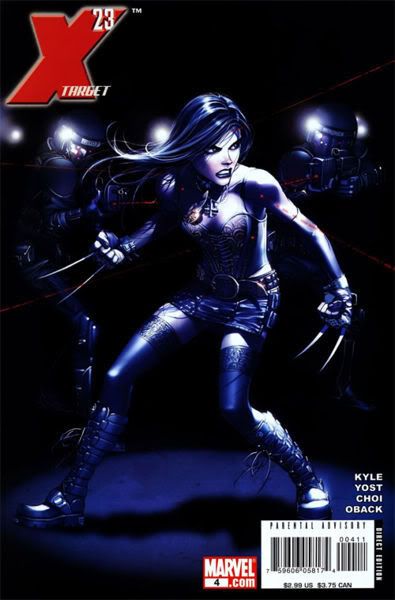 Well, school has started once again. Where did my summer go? I'm posting a few days late because of my new schedule.
Anyway, up for review is
X 23: Target X
. I really enjoyed the first X- 23 graphic novel and so I decided to give this one a go. It has excellent art. Mike Choi is an amazing artist and colorist Sonia Oback rocks!
This story takes place after X-23 has left the facility. She has been captured by Caption America, who works for a secret organization called S.H.I.E.L.D. Caption America is asking Laura (X-23) questions about her past.
The story is told in a series of flashbacks. The reader is reacquainted with Laura's life in the facility (which was covered in
X-23: Innocent Lost
), time with her aunt and cousin and also her meeting with Wolverine. While the story does cover material already presented in
X-23: Innocent Lost
, it does not weigh down the story and is used to refreshing readers of what Laura has gone though.
I enjoyed
X- 23: Target X
and wish this character would have her own series. I believe she is in the team book
X- Force.
If students ejoyed the first book I think they will enjoy this one as well. I don't think anyone needs to read the first book in order to understand the story. I strongly suggest reading the first book because it's an excellent read.
BTW, my copy of
The Heretic Queen
came last weekend and it is AMAZING. I finished it in two days.