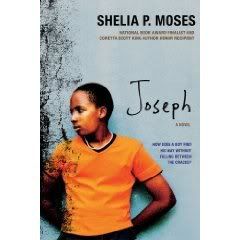 Joseph is the sad, but realistic story about a fifteen year old boy who struggles to overcome his troubled past. While most teens are dealing with the typical issues Joseph is living in a shelter with his crack addicted mother. Betty, Joseph's mother, abuses the welfare system, scams people and when she is in desperate need of cash she becomes a whore. But not everything is bad for Joseph. The school he is at is good and could help turn his life around, if his friend's don't find out he lives in a shelter. The teachers seem willing to help; and Joseph has his father, who loves him very much, but is currently fighting in Iraq. Aunt Shirley also wants to help Joseph grow up into a fine young man, despite his troubled past. But can Joseph leave his demons behind?

The story is fast paced and will quickly engage the reader. It's a gritty story without using foul language that tends to litter most young adult novels. While I did enjoy the story I found the writing lacking in some aspects. It was very simplistic, and almost too simplistic in my opinion. The characters are also one dimensional. They are all good or all bad. There is nothing in between. And I wish that Joseph's friends could have been explored a little more.

For students looking for an interesting novel about a young man struggling to find his identity then this is the novel for them. For students who want something edgy, this may not be for them. While it is a good story the usual in your face are not in this novel. Still, I think students will enjoy it.