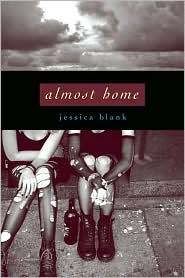 Almost Home
is the story of seven teens living on the streets. The cast of characters includes such catchy names as Eeyore, Rusty, Squid, Scabius and Critter. Then we have the common names of Laura and Tracy. The story is interwoven so you get every characters perspective of life on the streets. The book doesn't hold any punches and is gritty and realistic.
Overall I enjoyed it. I think Ms. Blank does an excellent job of showing the reader how brutal life on the streets really is. This is her first novel and I look forward to her second.
With that said, I think I have had my fill of these types of books. I mean how many teen runaway books can someone read in a year? I am clocking it at three for 2008. I've read
Miles from Nowhere
and
Living at the Edge of the World
in addition to
Almost Home
. They are all very good and compelling novels, but I think I am burnt out and therefore this is the best review I can write.
So I'll say this…
For students who are interested in the tale about runaway teens that is gritty and realistic then this is the book for them. If you are looking for something different and have had your fill of runaway teen books then I strongly suggest you pass!
Have a great new year everyone!