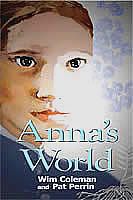 I recently recived a copy of
Anna's World
by Wim Coleman and Pat Perrin. The main character is a Shaker, which is interesting because I cannot recall any historical fiction books about the Shakers.

Here is a little summary about the book:

It's the late 1840s. The United States is fighting a bloody war with Mexico. The nation is tainted by the terrible crime of slavery. Fourteen-year-old Anna Coburn is barely aware of these momentous issues. She only knows is that she hates living with the people called Shakers. Too many rules, too little fun! And yet, Anna's life with them sends her on a sometimes dangerous journey of self-discovery.