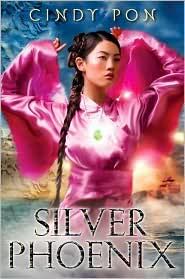 Ai Ling is a little different than most girls her age. She doesn't want to get married to a man she doesn't love. She doesn't want to conform to the rules of a married wife which would make her subservient to her husband. However, if she does not marry she will bring shame to her family.

She doesn't have much time to think about her martial status because she must rescue her father. Not only that but she has to fight demons along the way and vanquish a deadly foe that could destroy the entire Kingdom of Xia. While she is trying to save her kingdom from impending doom she meets Chen Young. She feels as a connection with him, but is unsure of what to do about it.

Silver Phoenix is a nice change from your typical fantasy books. The main character is female, and she is strong. She might not always be confident in every choice she makes, but I enjoyed that flaw. Ai Ling isn't some angry, moody girl running around with a sword out to destroy everyone in her path. She is very human with a lot of emotion.

There is a lot of action in the book too. I've heard it said that female authors tend to write more romance than fight sequences when they write fantasy. This is not the case with Silver Phoenix. There is a ton of action sprinkled with a little romance.

Overall, I enjoyed this novel and I think students who enjoy fantasy will like Silver Phoenix. It has action, adventure and romance. Everything is covered in this novel. I look forward to reading Ms. Pon's future novels.
Don't forget I have an upcoming interview with Ms. Pon which I will publish this Saturday.