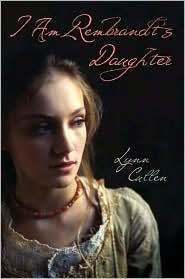 I found this book on the "discover new authors" shelf at B&N. At first I thought "Keria Knightly is doing covers??" I mean, common, it does look like her.
Cornelia, 14, is the daughter of Rembrandt, who in his prime was one of the greatest artists around. But now the family is penniless and the creditors are always knocking on their door. Her mother died of the plague a few years before and Cornelia is struggling with keeping her sanity as she tries to understand her unusual father. Her half brother, Titus, leaves her behind to marry a wealthy woman. Added to the mix is Cornelia's budding romance with Carel, who is the son of a wealthy shipping magnate. He is rich, she is poor, but will love overcome class? Also there is Neel, her father's last remaining pupil.
Overall, it was a decent read. I enjoyed it but I wouldn't rank it up there with The Queen's Soprano and it in no way could it be compared to A Northern Light. The characters were likable with their flaws; but I thought Ms. Cullen should have developed Cornelia a little better. The plot was predictable; which is a shame because teens deserve more than this.

On the flap of the book it says "Based on real characters and filled with family dramas and a love triangle that would make Jane Austen proud…" Eh, I highly doubt that. The love triangle for me was flat.
For teens looking for a fun read about a confused girl searching for love then this if for them. For everyone else, you may want to pass.