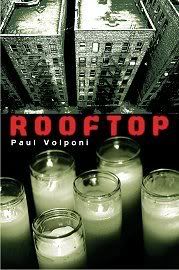 It's time for me to get out my soapbox. There has been a trend that has been bothering me and I feel the need to vent.
There is a big push to get boys to read. Studies have shown that boys don't read. Of course there are many factors to this such as home life, outside activities (video games, sports, working etc.) and the "it's not cool factor."
There have been numerous websites dedicated to guys and reading. As a librarian I strongly support this. But most of the sites forget that there maybe a young man over the age of 13 who wants to read, or is being made to read by his evil English teacher. Either way they do not give teen guys any books to choose from.
So where are the suggestions for teen guys? There are none. Or if there is a list of books you see the standard answers such as Stephen King or Lord of the Flies. Boo! So here is a list that I have made. This is only a partial list, but these are the books that my male patrons love.
I will create Part II in a few days. I hope it is useful.
Code Talker: A Novel about the Navajo Marines of World War Two

by Joseph Bruchac

Homeboyz

by Alan Lawrence Sitomer

Fallen Angels

by Walter Dean Myers

The Hoopster

by Alan Lawrence Sitomer

Quad

by Carrie Gordon Watson

Black and White

by Paul Volponi

Ghosts of Onyx

by Eric Nylund

Acceleration

by Graham McNamee

The Perfect Shot

by Elaine Marie Alphin

Tyrell

by Coe Booth

Rats saw God

by Rob Thomas

Endgame

by Nancy Garden

Kerosene

by Chris Wooding

Nailed

by Patrick Jones

Demonata Series

by

Darren Shan

No Right Turn

by Terry Trueman

Private Peacefu

l by

by Michael Morpurgo

Raider's Night

by

Robert

Lipsyte

Black Duck

by

Janet Taylor Lisle

Crackback

by John Coy

The Trap

John Smelcer

Open Ice

by

Pat Hughes

Maximum Ride Series

by James Patterson

Doing It

by

Melvin Burgess