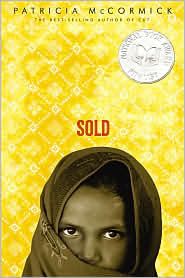 Lakshm is an average 13 year old girl living in Nepal. Her family is very poor and her step father cannot afford to keep a useless girl. Lakshm's world quickly comes to an end when her father sells her into prostitution. He needs to pay off his gambling debts and selling Lakshm is the easiest way to make money.
Lakshm does not want to live as a prostitute and longs to go home. She tries to fight her captors, but she is unable to keep them at bay for long. Before she knows it Lakshm is repeatedly beaten, starved and drugged until submitting to her captor's will.
Sold
is an amazing story. It is a quick read and reluctant readers will love it. The story is very brutal. For instance, Lakshm tells the reader how she is "torn and bleeding" after one of her rapes.
The characters are interesting as well. Some women are content with their lives as prostitutes and others want to go home, but to what? They would never be accepted by their families because of what they did. The women have no opportunity to improve their lives once they are free. Many accept their fate although the threat of STDs and HIV are always on their minds.
I loved this book but the ending was a little too much for me. It seemed like the author wanted to wrap everything up with a nice little bow. I won't give it away, but I was disappointed. Overall, though I think students will enjoy this novel. It is faced paced with an interesting topic not usually discussed in many books.