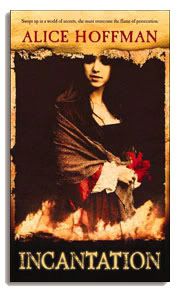 I think this is the second or third book by author Alice Hoffman that has been in the spotlight. I need to stop spotlighting her stuff and start reading it.
Anyway, I thought this one looked very interesting.
Summary from Amazon
The opposing forces of love and hate, loyalty and betrayal underscore this brief but rich tale set during the Spanish Inquisition. Told by 16-year-old Estrella deMadrigal, the novel shows how gruesome beliefs nourished by ignorance and prejudice destroyed the lives of countless people. Hoffman weaves a tale of a close friendship between two teens, Estrella and Catalina. Both envision that their lives will be intertwined forever. However, there is a secret about Estrella and her family that unfolds in spurts. The deMadrigals are Jews who follow their religion in secret, appearing to the world as good Catholics in order to escape persecution. Hoffman, a master storyteller, has captured this harsh time and the fragile lives of the hidden Jews. On one level this is the story of a friendship and the deadly interference of jealousy. It is also a story of the power of love and the resilience of the human spirit. Estrella develops incredible strength as she tries to save herself and her grandmother.