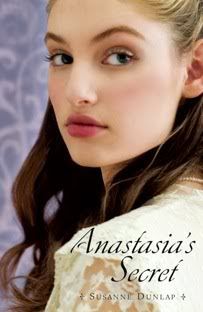 Russian history has always fascinated me. Finding historical fiction that takes place in Russia is very hard. So I was excited when I heard about
Anastasia's Secret.
The story takes place before World War I and follows Grand Duchess Anastasia as she grows up in one of the richest families in the world. Her life is going well, until Russia is sucked into World War I. Tension grow among the poor and soon all of Russia is changed forever. It's against this backdrop that young Anastasia gives the reader a glimpse into her family life among her sisters and brother. She also meets a young solider whom she falls in love with.
I enjoyed this novel. This is a fascinating time period, even if it is also very sad. I enjoyed Anastasia's character, but I wish we could have seen more interaction with her sisters. The historical details were great. I'm sure a lot of research went into this novel and it shows. I also praise the author for how the book ended, which I won't give away. She could have gone down a different path but I'm glad she didn't. The romance didn't do much for me. I wasn't convinced by the charachters connection to one another. But maybe other readers will disagree.
Overall, a great read. For students who love historical fiction I would recommend this one. For students who want to move out of their comfort zone and try something different I would also recommend this novel. The story is entertaining.