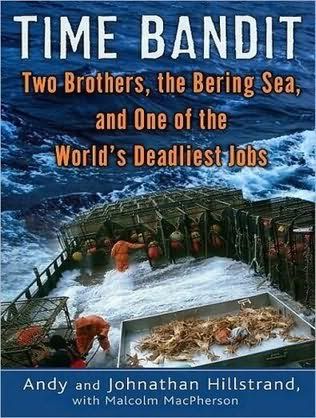 I'm a huge Deadliest Catch Fan. So when I found out there was a book about the Hillstrand boys I thought I needed to get my hands on this one.
Summary:
Every Alaskan king crab season, brothers Andy and Johnathan Hillstrand risk their lives and seek their fortunes upon the treacherous waters of the Bering Sea. Sons of a hard-bitten, highly successful fisherman, and born with brine in their blood, the Hillstrand boys couldn't imagine a life without a swaying deck underfoot and a harvest of mighty king crabs waiting to be pulled from the ocean floor. In pursuit of their daily catch, the brothers brave ice floes and heaving waves sixty feet high, the perils of thousand-pound steel traps thrown about by the punishing wind, and the constant menace of the open, hungry water—epitomized in the chorus of a haunting sailors' sing-along: "Many brave hearts are asleep in the deep, so beware, beware."
By turns raucous and reflective, exhilarating and anguished, enthralling, suspenseful, and wise, Time Bandit
chronicles a larger-than-life love affair as old as civilization itself—a love affair between striving, willful man and inscrutable, enduring nature.
Sig
Hansen
also has his own book.