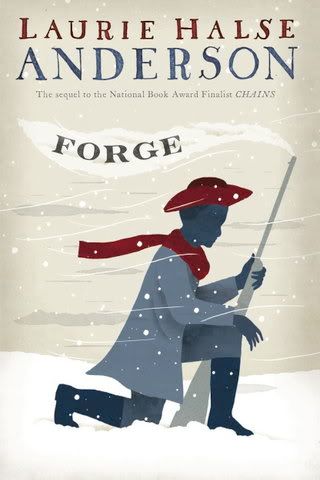 In today's spotlight is
Forge
by Laurie Halse Anderson. This is the sequel to
Chains.
Ms. Anderson is a local girl( Mexico NY). I've only read one book by her,
Wintergirls
, which I thought an interesting read but not riveting. Still, my patrons love her stuff so I thought I would bring attention to this novel.
Summary:
Anderson follows her searing, multi-award-winning novel Chains (2008) with this well-researched sequel, also set during the Revolutionary War and narrated by a young African American. This time, though, her central character is male, and the heartbreaking drama shifts from Chains' domestic town houses to graphically described bloody battlefields. After a narrowly successful escape from Manhattan, former slaves Isabel and Curzon separate, and Curzon is once again on the run. He finds necessary food and shelter as a private with the Continental army, and through Curzon's eyes, Anderson re-creates pivotal historical scenes, including the desperate conditions at Valley Forge.
Publication Date is October 19, 2010