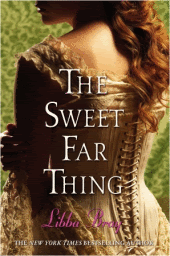 It's the day after Christmas and I decide to head out to the bookstore because I have been waiting for
The Sweet Far Thing
by Libba Bray. This is the third book in the Gemma Doyle series.
Now, this series has become very popular. I do believe that
A Great and Terrible Beauty
made it to the New York Times best-selling list.
Sweet. Hence, one would think the book would be easy to find.
Wrong.
I went to my local Barnes & Nobel store (the one on Rt. 31). B&N has bestsellers and all the popular authors, so they must have Ms. Bray's latest book.
Wrong.
In fact, when I asked the lady behind the counter where I could find the book she told me, "We don't have any in stock but we can order it." I couldn't believe what I was hearing. This is one of the most popular teen series and one of the largest store chains doesn't have it in stock? Unacceptable.
So I went to Walden book store, thinking that well maybe they would have it. Again they didn't have it either. Well, I take it back. They had it, somewhere in the back, but couldn't find the book. The young lady helping me was very kind in trying to locate the book, but with a store growing with costumers who needed assistance she had to abandon me. I could accept that but I couldn't accept that somewhere in the back was a missing box of books. If it had been a box of Harry Potter books do you think they would have lost them?
I went to Target. It was a last ditch attempt to try and find the novel. I went to the small YA section and was greeted by empty shelves. I had struck out again.
I'm sorry but I'm more than annoyed. This is a hot YA series. If James Patterson or Jodi Picoult had released a book the day after Christmas do you think it would be proudly displayed and well stocked in Barnes & Nobel? You better believe it would. But, since this is a YA book it deserves to be overlooked?
So the quest contiunes. I could always order it from Amazon, but by the time I do that my Christmas break will be over and I won't have time to read it. Plus, that's not the point of this little rant. The point is that if this had been an adult book by a popular author I do believe things would have been handled differently. But I guess if it's a young adult book it just doesn't matter, that is, unless you are J.K. Rowling.
For those who wish to find more information on the series Random House has a great website:
Gemma Doyle Series