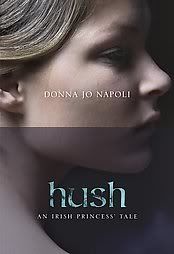 I like historical fiction. I was a history major. I taught history for two years at the high school level. In fact, when I am not reading YA books, I will only read historical fiction. I also write historical fiction in my spare time. So when I stumbled across
Hush: An Irish Princess' Tale.
I thought I would give it a go. It sounded like an interesting historical fiction novel.
The concept is simple. Melkorka is a princess and she is kidnapped and put on a slave ship. In order to survive she cannot speak. Since she does not talk her captor is captivated by Melkorka. This novel is based on an ancient Icelandic saga.
The story started out well enough, and the historical detail was great. However, for teens who dislike history or historical fiction this might be a trial for them to read. Even I, who loves historical fiction, had difficulty getting interested in this story. The novel moves along at an unbearably slow pace until Melkorka is captured. Hurray! I'm thinking the action will pick up. Alas! No! The story drags on for a few more chapters as we get her daily exploits on a slave ship. Yawn. It's dull and nearly unbearable. I want to get to the meat and potatoes of the story. I want to know how she reacts to life as a slave and how she feels when she is forced to obey someone's orders.
Melkorka is taken to someplace in the Middle East where the other slaves are sold, but not her because she is "special." The slave market is finally introduced around page 170, but by that time I didn't care what happened to this girl. She's dull, lifeless and the story has put me through more pain than my high school math classes. Unable to endure any more suffering I set the book aside. I had 138 pages left, but I simply couldn't continue.
It's sad because Ms. Napoli is an award-winning author. She has written
Zel
,
Stones in the Water
(Golden Kite Award)
Bound
and
Breath
(an ALA Best Book for Young Adults).
Maybe more action and a faster pace would have saved this novel. It just lacked that something that could make it great. I wanted to like this book, but I couldn't. I don't see my patrons borrowing this book from the library.
If you are a diehard history lover then you may like this novel, but for all others stay away.