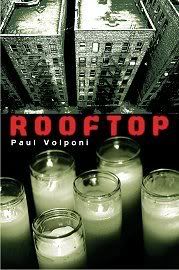 Rooftop
is another excellent book by Mr. Volponi. Once again he is able to capture the harsh reality of inner city life without being preachy or condescending.
Clay is arrested for smoking pot while his cousin Addison is a crack dealer. Both attend Daytop, which is a day treatment program to help teens stay away from drugs and to make better choices. Clay struggles to stay clean and tries to get his GED. Meanwhile, Addison has a harder time of leaving his past behind and goes back to his old ways.
One night, Addison chases another teen who owes him money. Up on the rooftop a terrible incident occurs and Addison is shot by a white police officer in front of Clay. Now Clay's world is changed forever. Not only does he have to deal with the death of his cousin, but he has to decide if he will tell the truth about what happend on the rooftop. Some community members will be angry by what he has to say. But does Clay fold to community pressure or does he tell the truth about what really happened that night?
Students who liked
Black & White
will enjoy
Rooftop
as well. I highly recommend this book.