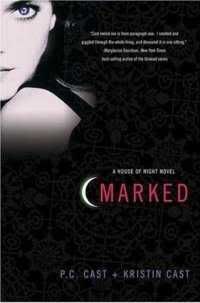 Ever since the huge success of Twilight by Stephenie Meyer, authors are churning out vampire novels like crazy and readers are gobbling them up. Recently, I stumbled across a new series by P.C. Cast and Kristin Cast. The series is entitled House of Night. Within the series we have Marked, Betrayed and Chosen(which just hit the shelves a month ago).

I like vampire novels. I like vampire shows. After all, I am a huge fan of the cult TV show Forever Knight. So, I was excited to read Marked. The premise is very interesting. Vampires have always existed and during a person's teen years they are marked and will go to a special school to become vampyres(as it is spelled in the book). Their body can either accept the change or reject it. If it rejects the change the person die. The main character in the novel is Zoey, whom just happens to be chosen by the vampyre Goddess Nyx and is given awesome powers.

The book sounded interesting and so I began reading it.

But then I got to the dialogue. With such sentences like this: "Dude! Leave her alone. You know she don't smoke. She's a vampyre." And "Great wonderful. Heath, with his usual total and complete lack of anything resembling good sense, though he was actually standing up for me as he yelled at his friends…." I couldn't get the image of a valley girl out of my head.

Now, I am well aware this is a YA book, so taking that into account I will say this: Teens that enjoy vampire books will probably enjoy this novel. I personally couldn't finish it, due to the dialogue. However, I cannot give it a harsh review because of the intended audience.

I may try to read this book again. Or maybe, I'll skip book one and go to Betrayed or Chosen. Perhaps the dialogue becomes a little more sophisticated. Either way, for vampire lovers here is another series you can enjoy.