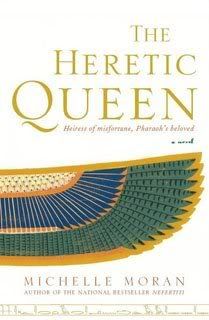 Last year, Michelle Moran published her first novel
Nefertiti
and it became a best seller. Now, Ms. Moran has another book that will be released September 16, 2008. The book is entitled
The Heretic Queen.
I was recently informed that (in August) I will be given a copy of Ms. Moran's new book.
The Heretic Queen is the story of Nefertari, who is the niece of the former queen Nefertiti. This summary was taken from Ms. Moran's website: "Nefertari catches the eye of the crown prince, and despite her family's history, they fall in love and wish to marry. Yet all of Egypt opposes this union between the rising star of a new dynasty and the fading star of an old, heretical one. While political adversity sets the country on edge, Nefertari becomes the wife of Ramesses the Great. Destined to be the most powerful pharaoh in Egypt, he is also the man who must confront the most famous exodus in history."

I look forward to reading The Heretic Queen. Ms. Moran is an excellent author who is extremely talented. For those who are interested in historical fiction or in Egyptian history I strongly encourage you to read Nefertiti. It is now out in paperback.
For more information on Ms. Moran's books please go to her web site