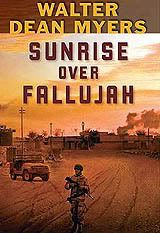 This is it! It is my first book giveaway. I'm excited (now watch no one wants the book!) I am giving away one copy of Sunrise over Fallujah. If you are interested in the book please send me an email at yabookmarks@gmail.com . The drawing will be held

Sunday (Oct. 19th)

. In the future I hope to give away more books to my loyal readers. I think this is the perfect way of saying THANK YOU! Or, as I always say to my students GRAZIE!
This giveaway is for those within the United States. Maybe in the future I'll expand it.