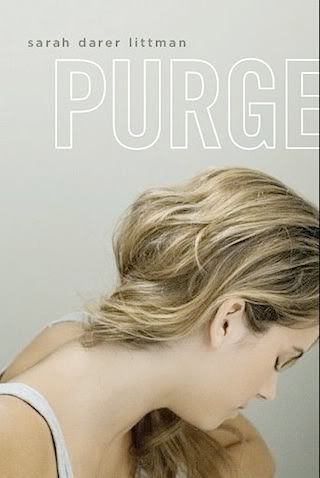 Purge
is the story of Janie Ryman, a 16 year old girl who suffers from bulimia. The story is told in first person and uses a series of flashes backs.
Janie is at Golden Slopes, a facility that helps teens with eating disorders. During her treatment, Janie meets an interesting cast of characters, including a wrestler who is anorexic but doesn't think he has a problem, Helen, the Queen of Lean, various doctors and secondary characters that helped give this book depth.
The novel does not try to sugarcoat anything. It paints a realistic and painful story of young people who have eating disorders. The one thing I enjoyed was that the book had male and female characters who suffered from anorexia or bulimia. I thought this was a nice touch because, as we all know, it is not a female problem.
There is a sex scene with the main character and her boyfriend, which has some people raising their eyebrows. I found it to be rather tame(but then again my tolerance level could be very high) and I don't think that high school girls would think twice about it. The aftermath of the sexual encounter I thought was prefect, realistic, and very sad. I know many women(teens and adults) who can relate to the situation.
At the end of the book there are websites, treatment centers, and also books that can help teens if they have an eating disorder.
At times it seemed like there were too many issues going on at once and it did make my head spin a bit. The ending seemed a little too cliché for me as well. Yet with that said I think this is a powerful novel that teens will really enjoy, and unfortunately can relate to.
For teens looking for a realistic story filled with teen angst and pain then this is for them. For those who dislike drama, this is not the book for them.
This book will be released on April 1, 2009.