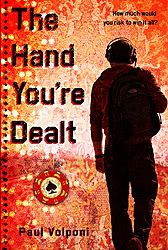 Huck is a high school student living in Caldwell. His father is one of the best poker players around and has taught his son everything he knows. When his father suddenly dies Huck takes the stills his father has showed him and decides to win the local poker tournament. But in doing so will he lose his identity?

I love Mr. Volponi's books and I'm always raving about them. This book is good, however I think the subject matter may deter some readers. I wasn't hooked on this story as I was with Black & White, Hurricane Song or Rooftop. I find poker very dull, and I think this is one reason I didn't like the book as much as I have enjoyed Mr. Volponi's previous books.

I think teens, especially boys, will love this book because of the male characters, realistic dialogue, situations and the poker games. However, for me I just couldn't get as excited about this book as I did with the others. Still it is a good read and one the guys will enjoy.