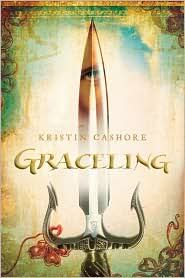 Katsa is a young lady with an interesting Grace. She has the ability to kill people. This makes her a skilled assassin and an important person in her uncle, King Randa's court. Throughout the story Katsa starts to question her life and if she is doing the right thing. Enter Po, a mysterious Prince from another kingdom who trains with Katsa and also questions her path in life. He finally convinces her to rebel against her uncle and together the two go on a rescue mission.
The premise of the story sounds a lot better than what I actually read. The idea of Graces was very interesting. For instance the Grace could be killing or it could be as lame as talking backwards. But the whole adventure fell flat to me. It wasn't very exciting. I just didn't care, and the author seemed to focus more on the lame relationship between Po and Katsa. The characters were decent enough, although I was hoping that Katsa would embrace her darkside instead of whimping out. The ending may also have some readers a little annoyed.
Don't get me wrong, some teens may find this book interesting, but I just couldn't enjoy it. I like fantasy novels with strong female characters but not this one. I'm pleased that the author wrote about a young, strong female. There needs to be more fantasy novels for women, in my opinion.
The author has another book coming out entitled
Fire
, which is a prequel to
Graceling
. It comes out in October. I may give this one a go.
I'm not sure if this is the offical cover or not..but take a look...