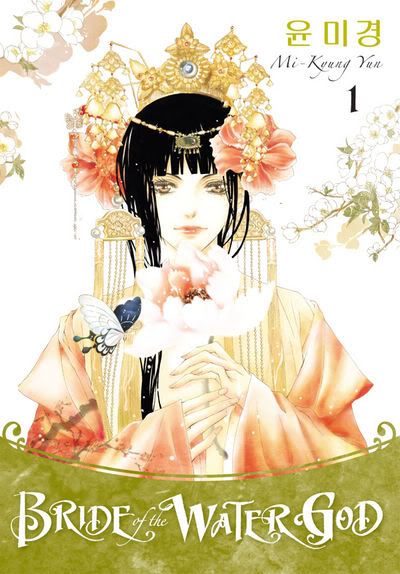 Soah is a young woman who must be sacrificed to the Water God Habaek. Her village needs rain and the only way to do that is for a a pretty young woman to die. Soah is the unlucky winner.
Once in Habaek's kingdom she meets some unusual characters, and some with some dark secrets, including the Water God himself.
While I enjoyed the story I felt that there wasnt a whole lot going on, but thats typical with manga. There are all these little secrets and you can't find out what they are until you read the next volume. I think the premise is a good one and I'll pick up these to see what else happens in the series. To date there are three volumes.
The first two pages are color, showing Soah in her wedding dress which is a beautiful red. I wish the entire book would have been in color becuase I think it could have been breathtaking. But, since its manga its in black and white. The illustrations are nice and I really enjoyed them. This also reads like a typical book(left to right) not like your other manga titles.
I think teens who are looking for a little romance in their manga will enjoy this novel. There is some sex in it however so it may not be a wise purchase for school libraries. It isn't really graphic, but I'm wondering if this title should end up on my shelf.
Overall, a good read. I'm looking forward to the second volume.