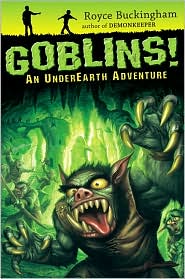 This is long overdue, and I can only blame myself. Anyway, I am finally giving away
Goblins
by Royce Bunkingham. He is also the author of
Deamonkeeper
.
This is a great novel for middle school boys.
If you are interested in this novel please respond to this thread.
If you are a follower and respond you will get 5 extra entries
If you sign up as a follower you will get an additional 7 entries.
US entries ONLY. Sorry, but I'm broke. I haven't had a paycheck yet. School just started again.
The contest ends Sunday, September 13, 2009.
Good luck!