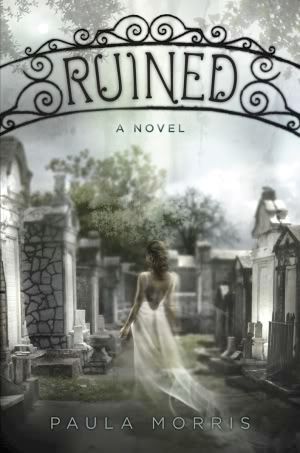 Rebecca's father is going to China on business and instead of leaving his daughter in New York City by herself he ships her down to her aunt's house in New Orleans. The idea of staying with her crazy hippy/gypsy aunt and cousin(who goes to a private school) isn't her idea of fun. But she doesn't have a choice.
Life in New Orleans is strange and hard to adjust to at first. Everyone seems obsessed with social class and family history. Rebecca isn't having fun until she follows the popular kids into the cemetery. Her world changes when she meets Lisette, a ghost who died from unnatural causes in 1850.
After Rebecca becomes friends with Lisette(a ghost) she is thrust into a world of curses, prejudice, murder, and scheming. Adding to her problems is Anton Grey, one of the popular boys. She is attracted to him, but he isn't a man she should love or a person she can trust.
I enjoyed this book a lot, but it had so many different elements that I love. First I have always been fascinated by New Orleans and its unique history. The author did a wonderful job of portraying the city. I like to explore different cemeteries(a cemetery was one of the settings in the book). Ghosts stories are fun(for me) and I though the author handled Lisette very well.
While I enjoyed the novel it did have a few flaws. I thought it started out a little slow. Rebecca wasn't a strong character. She seemed like a passenger along for the ride. She never figured anything out and had to be told everything.
Still, despite the flaws(which were minor in my opinion) I liked this book a lot. It was something different and unusual, something I haven't come across in quite sometime. I look forward to future novels by Ms. Morris.