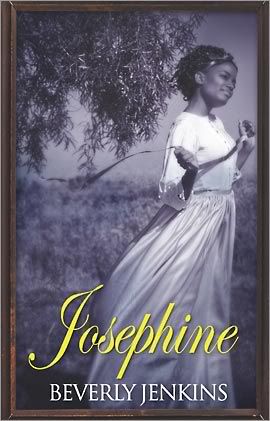 Some of you maybe saying...but it isn't Friday. And others maybe saying it isn't the fourth Friday of the month. Well, both would be correct. I worked at my second job last night and didn't get home until 11PM. I was way too tired to post anything. Also, I since I love Historical Fiction so much I thought I would dedicate each Friday to the genre.
The book I am spotlighting today is
Josephine
by Beverly Jerkins.
Here is a summary from Amazon:
Josephine Best has it all figured out. Just seventeen, she's been to college, she has her own hairdressing shop and she refuses to be distracted from her goals. At least until handsome George Brooks begins to pursue her. Jojo isn't looking for romance, but she permits George to call on her.
Adam Morgan has always been a Casanova, and no girl is immune to his charm. But when he comes home wounded from the War Between the States, it's a girl he used to call "Pest" who's turning his head. All grown up, Jojo is being courted by another soldier, and Adam knows it would be foolish to play with her heart. Even so, he just can't get the headstrong lady off his mind.

For her part, Jojo can't deny her growing feelings for Adam. But he's always been such a flirt—he can't possibly be serious about her. Besides, she has George falling all over himself to please her. As the war rages on, Adam's feelings for Jojo grow stronger, but Jojo's determination to resist him does, too. One thing is clear, though: Jojo is a girl who always gets what she wants, sometimes in spite of herself.

While I haven't read the novel, it sounds interesting. There are so few black characters in YA fiction. The Civil War is also a time period I have studied extensively. One reviewer said it was historically accurate. I'd love to find out if that's true.