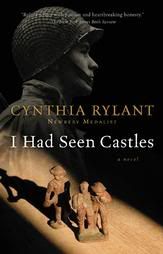 John is a young man eager to enlist in the army so he can fight the evil Nazis. His father is shipped off to a secret mission somewhere in America. His sister is in love with two soldiers and is pregnant by another one. John is just waiting until he goes off to war, but in that time he falls in love with Ginny, a young woman who doesn't believe in war.
This is a very small book, 100 pages, I believe. This would be great for reluctant readers, but for me it wasn't enough. I wanted to experience the horrors of war with John, but the majority of the book takes place on the home-front.
The novel is decent, but I wasn't on the edge of my seat. Students looking for a hardcore war novel with bloody battles will be very disappointed.