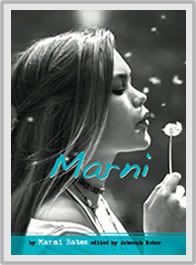 Marni
is one title in a series called
Louder Than Words
. There are three books in the series. The two remaining titles are
Chelsey,
and
Emily.
I had thought I knew of every disorder known to man. Well, teenagers usually fall into the typical categories, such as cutting, purging, and anorexia. However, Marni is different. She pulls out her own hair. In fact she pulls out every hair she can find including her eyelashes, her eyebrows and the hair on top of her head.
Marni is having trouble coping at home and school. Her parents are divorced and she has problems with her sister. Marni wants to be closer to her father, but as the years go on her father is more interested about his own life. In order to deal with all these pressures she plunks out her hair.
This is a really amazing book. When I first heard of it I was skeptical because it was written by a young woman. I wondered if this was a well written story or just a hodgepodge of carelessly written chapters. I was plesantly surprised and was engrossed in this book. The writing was tight and the chapters well written.
I think students looking for books about teen problems will really enjoy
Marni
. The topic is one not usually discussed in books and the author handles the subject very well.
The publishers has been kind enough to give me a copy for my readers. Anyone who is interested in
Marni
may leave a reply to this thread.
Here are the rules
:
Current followers receive 5 entries towards the contest.

New followers receive 10 entries towards the contest.

Please leave a comment telling me if you have heard of this disorder. I'm curious to see who else knows about it.

The contest ends on December 21, 2009.

Good Luck!