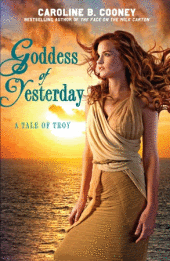 OMG I am dropping the ball this week. I didn't do I want it Wednesday and I forgot to post the upcoming title for February. I'll post the titles later this weekend.
For Historical Fiction Friday this week I choose
Goddess of Yesterday
by
Caroline B. Cooney.

Here is a summary:

The cherished daughter of the chief of a tiny, nameless island in the Aegean, Anaxandra is taken as hostage by King Nicander, and brought to his home as companion to his daughter Callisto. When pirates attack Nicander's island, Anaxandra the lone survivor is taken in by King Menelaus of Sparta, who believes she is the Princess Callisto. In the court of Menelaus and his gorgeous but cruel wife, Helen, Anaxandra has a heart-poundingly immediate view of the shocking events set in motion when Paris, a handsome prince of Troy, comes to pay a visit. Spirited off to Troy itself in place of Helen's daughter Hermione, Anaxandra plays a small but crucial role in the first few days of an epic war and makes peace, at last, with her stolen identity.