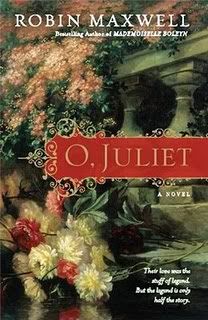 Classic novels and plays are usually off limits for a variety of reasons. But for the authors who take up the challenge it can be embraced by the public or can be shunned like someone who has H1N1.
Historical fiction author Robin Maxwell decided to take on the huge task of retelling the story of Shakespeare's immortal
Romeo and Juliet
and has received mixed reviews.
Since I blog about books for teens I decided to look at this as a teen would. I imagine students would be willing to try Ms. Maxwell's novel. Juliet has enough teen angst in her that I think fellow young adults can identify with. Juliet is also a very modern and bold young woman, which may appeal to some who dislike their heroines weak. She is madly in love, after all, and wants her handsome Romeo, not her father's pick(a middle aged man with bad teeth).
Young people interested in reading a romance may find this book interesting.
Ms. Maxwell's novel hits stands on February 2, 2010.