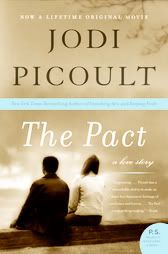 Jodi Picoult is a very popular author with my teens. They love her stories. So I thought I would review one of her novels.
Chris Harte and Em Gold are two teens who have never been apart. They are neighbors and their parents encourage them to date. Em isn't convinced this is the relationship for her and is sickened by it. Chris is so close to her it's like having sex with her brother. To make matters worse she ends up pregnant and falls deeper into depression.
Em tells Chris that if he loves her he will kill her.
What develops next are the parents talking about their story, a court case, and the normal Picoult formula. Yawn.
First off, I'm not sure why this book is "a love story" because nothing about this book screams love story. Also, why didn't she just say no to her relationship with Chris? And why didn't she stand up to her parents? And why would Chris(a well rounded, smart teen) decide "yeah I'll agree to the pact." The characters were all weak and uninteresting. Nothing in this story worked for me.
Will teens enjoy it? Some may, but the idea that this is "a love story" is misleading. However, teens who enjoy her other novels may want to give this oldie a go.