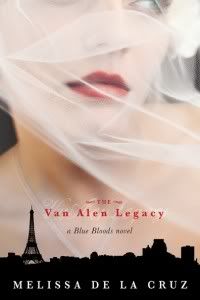 The Blue Bloods is another series my students love. They are into the vampires and Ms. Cruz's novel is the perfect vampire soap opera.
This book is told through three points of view. They are Mimi, Bliss, and Schuyler. There were three previous novels and I think teens should read the other books. If they don't they maybe lost and confused because of the details of this series. I'm not sure this book could be read as a stand alone novel.
While I enjoyed the book, I sometimes thought it was a little long and could have been snipped here and there. Still, I think students will really enjoy this series. For students looking for something to fill the Twilight void they should give this one a go.
The latest Blue Bloods novel will be released June 29, 2010.