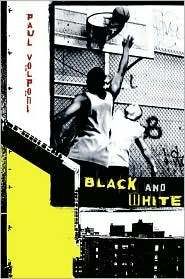 "Marcs and Eddie are the stars of Long Island City High School's basketball team. Marcs is black and Eddie is white, but they got past all that "racial crap" and have been best friends for years." Quote from
Black and White
Marcs and Eddie are going make it to the NBA. Everyone knows it. They have scouts coming to their games to see them play. Both know it will only be a matter of time before they get their big scholarships and then they can go to the pros.
The problem is both boys are from the inner city and have little money. They could work but that would interfere with their practices and games. So, they decide to make some quick cash. Everything is fine until one night when things go horribly wrong. Now one will have to pay for their mistake.
This is an excellent novel that I cannot keep on the shelf. My students love this book. Mr. Volponi does an excellent job of portraying the struggle these young men face. The ending shocked me and when I finished reading the book I couldn't believe what happened. Amazing read. Boys who are into basketball will especially like this novel. However, I think boys and girls who want a solid story with realistic characters will enjoy this book.
Paul Volponi has written two other young adult novels including
Rooftop
and
Rucker Park Setup.
His first novel was
Rikers
, which could appeal to teens due to its topic.