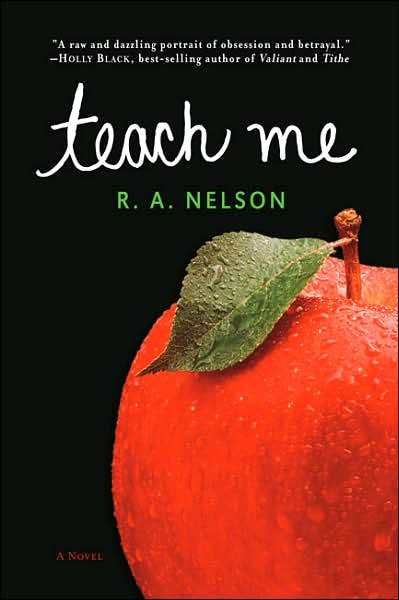 Teach Me
by R.A. Nelson deals with a disturbing topic that seems to be happening more frequently. I will confess that as an educator this book was difficult to read. The novel is about a 17 year old senior and her budding relationship with her teacher.
The idea that a teacher would cross the line and have a relationship with their student is troublesome. I wouldn't have given this novel a second thought, but it came highly recommended. It was awarded Booksense Fall 2006 Kid's Pick, a TeenReads.com Best Book of 2005, and a selection for the 2006 NYPL Books for the Teen Age.
It was because of these awards that I decided to give the book a chance.
Carolina is a high-school senior living in a small town. Her life is dull and uninteresting until she meets Mr. Mann. He is the new English teacher. Their relationship begins to grow and then they cross that line that is never to be crossed between teacher/student and consummate their relationship on her 18th birthday. Carolina begins to daydream of a future with Mr. Mann until he quickly calls off their relationship. Devastated by the rejection Carolina begins a downward spiral that has the potential to hurt everyone around her.
I will confess that I was disappointed by this book. With all the awards it received I thought it would have been written a little better. Much to my dismay, the book isn't as good as one would think.
For one, Carolina or Nine, as she is called, is much too intelligent for her age. I am fully aware that there are very smart teenagers. I see them all the time in the library, but Nine's level of intelligence was a bit much. She thought like an adult. Her attitude was annoying as well. I didn't find her to be a likable character.
The progression of the relationship was believable. Also, Nine's psycho attitude(that's all it can be called) is also understandable, however it did become tiresome. I mean how many times can you stalk someone and not get caught? The situations she is in are so unbelievable sometimes it's just painful to read.
The resolution at the end was pathetic. At the end of the novel I couldn't help but wonder what was the point of all the angst and crazy stalker like attitude if it ended the way it did? It was extremely disappointing, and I thought the author could have done so much more.